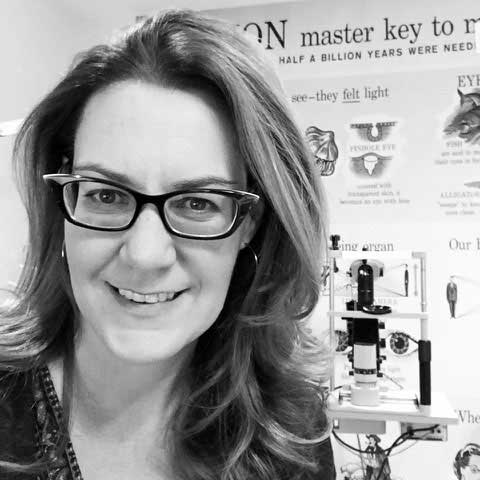 Dr. Charlene Glynn is a graduate of the New England College of Optometry in Boston and Binghamton University in New York. She completed her residency training at Kittery Optometric Associates in Maine while teaching at the New England College of Optometry. In addition to providing comprehensive eye exams, she is experienced in pediatrics, contact lenses and ocular disease. Charlene resides in Reading, MA  with her husband and children. She has been resident Optometrist with Todd Rogers / Andover EyeCare since 2010.
When was the last time you had an exam?
To schedule an Eye Exam online, Click Here
SAY GOODBYE TO DIALATING DROPS…
and hello to our Optomap Retinal Exam – an ultrawide digital photo of your retina (inside of your eye). It is a quick, painless image taken to determine the health of your eye, allowing Dr. Glynn to compare and look for changes in your eye form one visit to the next.
EYE EXAMINATIONS MAY INCLUDE SEVERAL OF THE FOLLOWING:
                 Visual Function and Refraction: Checks numerous visual skills, such as clarity, focus and coordination. Problems with visual function would result in blurred vision, eye strain, and difficulty maintaining place when reading.
                 Health Assessment of the external eye: Checks for infections, allergy related problems, and minor injuries. Problems such as red, watery or itchy eyes are addressed with procedural recommendations or medication.
                 Health Assessment of the internal eye: Checks for cataracts, glaucoma, macular degeneration and health conditions such as diabetes, hypertension, and even cancer. Problems related to these issues are managed with other eyecare specialists and primary care doctors.
CONTACT LENS EVALUATIONS:
Dr. Glynn has extensive training in all aspects of contact lenses including:
Specialty lenses for young children
Astigmatism
Bifocal or reading lenses
1 day disposable contacts
Enjoy a peek at the real "Doc G."